In July 2008, the Bahai Gardens in Haifa and Akko were inscribed on UNESCO's World Heritage List, in recognition of their outstanding universal value as holy places and places of pilgrimage for the followers of the Faith.
Bahai Gardens – A UNESCO World Heritage Site
In one word, the Gardens are magnificent beyond anything I have ever seen before. These amazing gardens, located in the heart of Haifa, overlooking Haifa bay with a clear view to Akko. They are actually much more than gardens. The entire area is comprised of a staircase with a total of nineteen separate terraces that extend the entire way up the northern slope of Mount Carmel. Their is a huge golden dome you will notice in the center. This is the Shrine of Bab, the resting place of the prophet Herald of the faith.
Over half a million people visit the gardens in Haifa each year and I can see why. They are gardens like I have never seen before; a combination of geometrical shapes with special attention to detail. You will not forget the natural and historic landscape features, combined with the sheer solitude and peacefulness of the garden area. As you stand there, it is sheer peacefulness and natural beauty.
The gardens offer neatly arranged graveled paths and flowered beds that are meticulously groomed and nurtured by dedicated gardeners. From the top of the Gardens, you the gardens frame a breathtaking panoramic view of the city, the Galilee mountains, and the Mediterranean sea.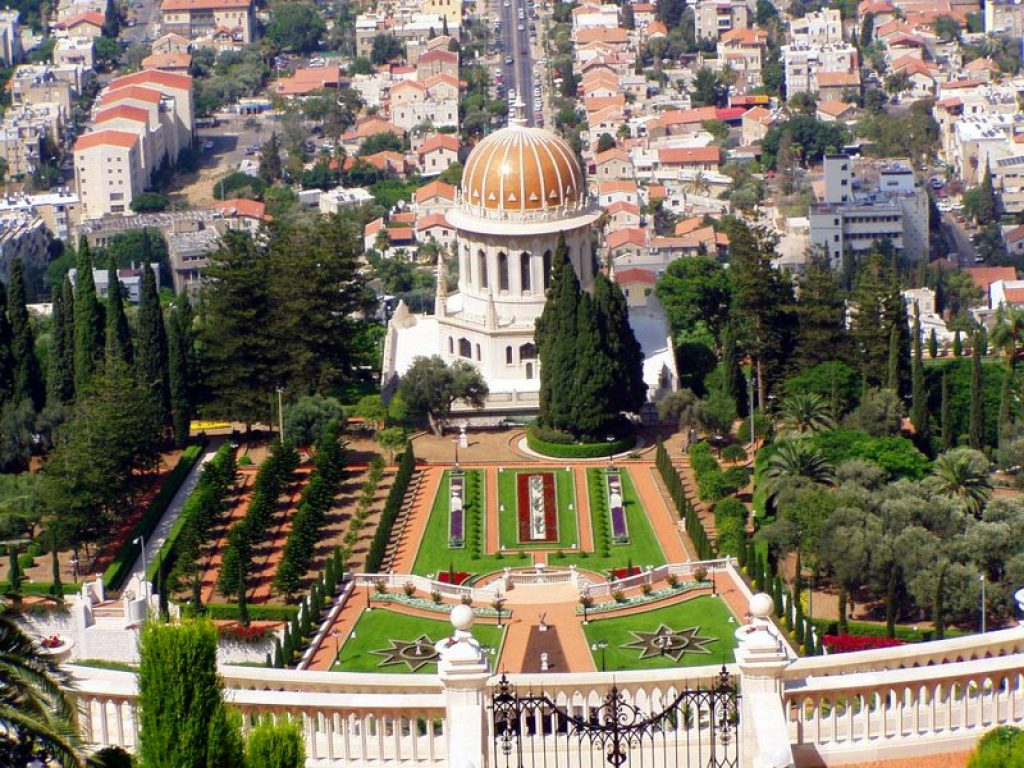 Bahai Religion
The Bahai religion originated in Tehran in 1863 when Mirza Hussein Ali renamed himself Baha'ullah or Glory of G-d. He began preaching unity and non violence among all religions. Baha'ullah was later imprisoned, then sent to Palestine in exile where he taught in Acre according to the website.
The Bahai religion is among the worlds youngest major religions. It is found in over 235 countries and has six million followers in the world. The religion was founded in 19th century Iran. It grew out of Islam, just as Christianity grew out of Judaism. The faith welcomes all individuals who accept Bahu'llah, his covenant regarding his son and successor Abdu'l-Bah, and the governing rules and institutions of Bahai. Interestingly enough, converts do not need to renounce their previous religions, since Bahais believe that all religions are different approaches to worshipping God, and that their faith is the most recent and current approach.
More about Haifa from Israel Travel Secrets.
Bikor Na'im (Have a great visit)
Lisa