Top 8 Israeli culinary delights, street food and more…
On my last visit to Israel, I completely forget to enjoy a felafel. I contemplated delaying my flight as I just remembered on my way to the airport but my wife argued otherwise. Just kidding, but there are some authentic Israeli specialties that you should not miss on your next visit. 
Felafel and more …
Felafel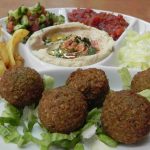 Super popular in Israel…These deep fried balls are made from chick Peas with added herbs and spices. They are served most commonly in a pita stuffed with Israeli salad, Tahina, pickles, topped with mild or spicy sauce (Charif). You can also enjoy them on a platter with a side dish of Humus on a bed of lettuce. Either way, don't leave Israel without enjoying this truly authentic gem..
Israeli Salads
A true taste of the Mediterranean. If you have never enjoyed authentic Israeli Salads, you simply haven't enjoyed salad. Super healthy, tasty and really downright delicious, you can make a meal out of these, with a side order of warm pita or as an appetizer for a meat dish. 
Sabich
Falafel may get the popular vote, but Sabich is right up there with the tastiest of Israeli Street food.  Super healthy and delicious, this delight features slices of fried eggplant, hard-boiled egg, a layer of creamy hummus, crunchy Israeli pickles, and Israeli salad, and drizzled with tahini sauce and topped off with your favorite Chamutzim (Israeli pickled vegetables) and hot or mild sauce. 

Shawarma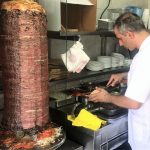 Shawarma is prepared from thin cuts of seasoned marinated lamb or beef, prepared on a slow rotating rotisserie. The meat is shaved off in paper thin slices and served either open face or in a pita as a sandwich garnished with diced tomatoes, cucumbers, onions, Chamutzim, and Tahina sauce. Another top Israeli Street foodie favorite…
Sufganiyot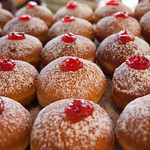 Only served around Chanukah, these fried doughnuts are most often filled with jam or custard; you can also get them plain and inject your own filling at the bakery or home. They are always crowned with a dusting of powdered sugar to give them a sweet topping. The root (Sfog meaning sponge in Hebrew) for spongy dough and the term Sof Gan Yud heh (end Garden of Eden or "paradise"). 
Cafe Afuch 
Often compared to a Latte', this Israeli favorite is appropriately named Afuch (upside down in Hebrew) because it starts with steamed milk (or milk alternative), then topped with a single or double shot of Espresso, finally crowned with frothed milk often with an original artistic flair. The taste is very unique with a creamier taste and less acidic than most Cappuccinos or Lattes I have tried elsewhere. 
Limonana
The most refreshing hot weather drink on the planet for sure. Limonana is a combination of fresh squeezed lemon juice, a bit of sugar, and spearmint leaves (Nana in Hebrew) hence the name. You can serve it in a glass with ice or I much prefer it as a slushie or (Garuz in Hebrew), garnished with a slice of lemon. 
Etrog Cocktail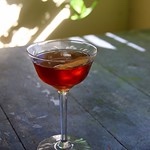 This is a truly unique drink I haven't hear of anywhere else in the world. In fact, my daughter who lives in Israel and works in the Food and Bev industry told me about it. This cocktail uses Etrog Liquor or Grappa, which you can enjoy straight up or mixed with a variety of juices or other spirits like Rum for example as an Etrog Mojito. My personal fav is fresh Pomegranate juice. 
Please enjoy my Top 5 FAQS answered on travel to Israel. 
Be Tay Avon or good appetite