Our Israel sailing adventure
Did you check out this amazing live GoPro video footage fittingly called Mediterranean Blue that we shot of our Israel sailing adventure?
How about an afternoon sailing through the clear blue waters of the Mediterranean on a 42 foot luxury yacht. If that sounds really tempting, just wait, there is so much more…..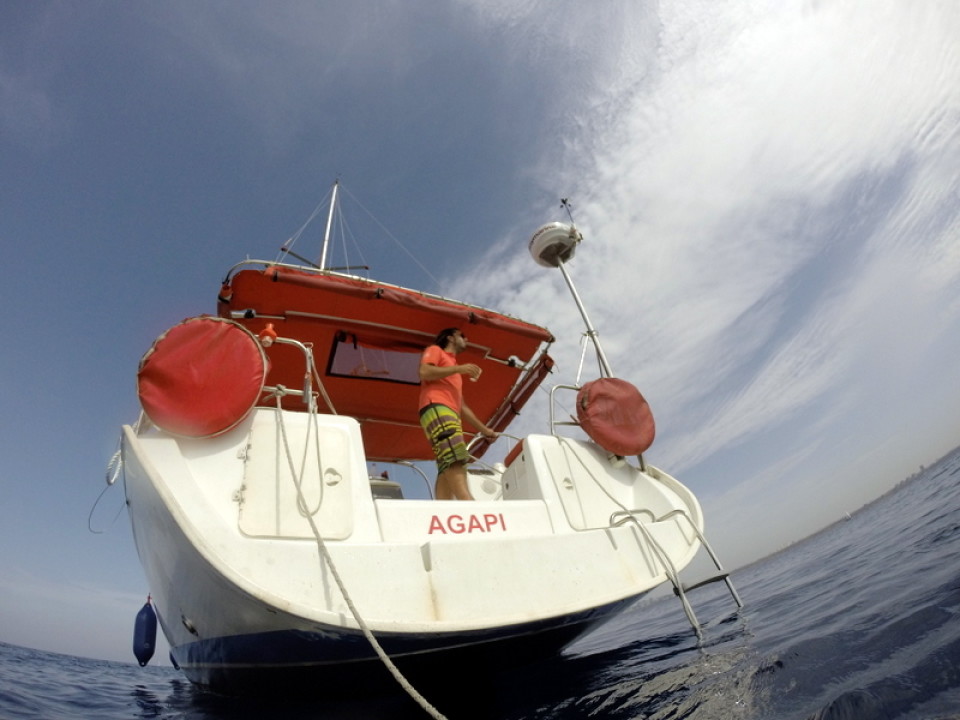 We arrived about noon and our Skipper Yonatan was waiting for us. The yacht was stocked with soft drinks and champagne, paddle board, raft and is spacious and beautifully decorated. You can bring your own food if you like, but I recommend waiting until after the trip. The Skipper does all the work for you. The tours are usually about two hours and arranged on an appointment basis only.
Just sit back, relax, sip some champagne and enjoy the ride….
Just Relax and Enjoy the Ride
After sailing out a few kilometers, Yonatan dropped anchor so we could take a dip and play in the water. The ship comes with a large paddle board and inter tube for your enjoyment. The water is about 100 feet (32 meters) deep and a beautiful Mediterranean blue
Simply irresistible 
If you are lucky enough, you may even spot some dolphins. They are abundant in the area and love to play.
Rafting and Paddle Boarding
A Perfect Day for the Family
A perfect day for the family or just a couple.
Their were only four of us but the yacht will accommodate up to 12 featuring abundant deck space and a full cabin inside with tables, full kitchen, 2 bathrooms, and a shower. Beautifully maintained and decorated, the yacht far exceeded our expectations. Our Skipper Yonatan was very professional, polite and spoke perfect English. He did all the work while we just relaxed and played.
We chose an afternoon family trip but romantic sunset cruises are available and quite popular as well.
Top Tips and Recommendations – Sailing Tours
Set your GPS or Waze to Herzlia Marina
Leave Early and arrive at least 15-30 minutes before your scheduled departure
Sun Protection – hat, sunglasses, sunscreen
Comfortable clothing; Shorts, deck shoes or Sneakers
Bring your bathing suit and towel
Food – I recommend waiting for the end of the trip and enjoy one of the fantastic restaurants or cafes located in the Marina. Sea Gal offers their own restaurant as well.
Bring your phone or IPod and connect it to the sound system on the Yacht
Please complete the form below for more pricing and scheduling details or see more at Sailing Tours in Israel.
Sailing & Luxury Yachting Tours in Israel