An Amazing Rappelling and Hiking Trip in Nachal Rachaf
Let me tell you all about it….
First, you have to check out this amazing live video from our rappelling tour down the side of a 50 meter (150 foot) cliff in Nachal Rachaf.
Nachal Rachaf is one of the deepest and narrowest canyons in Israel located in the Judean Valley next to the Dead Sea. On the way into and out of the canyon we enjoyed breathtaking views of the Dead Sea, Jordan, and the Judean desert.
Once we entered the canyon, we traversed through narrow passages, climbed down ladders, and swam across natural cisterns (not optional). There are two very high cliffs and a few smaller ones along the path and the only way to conquer them is to rappel off the towering rock ledges into pools of water far below.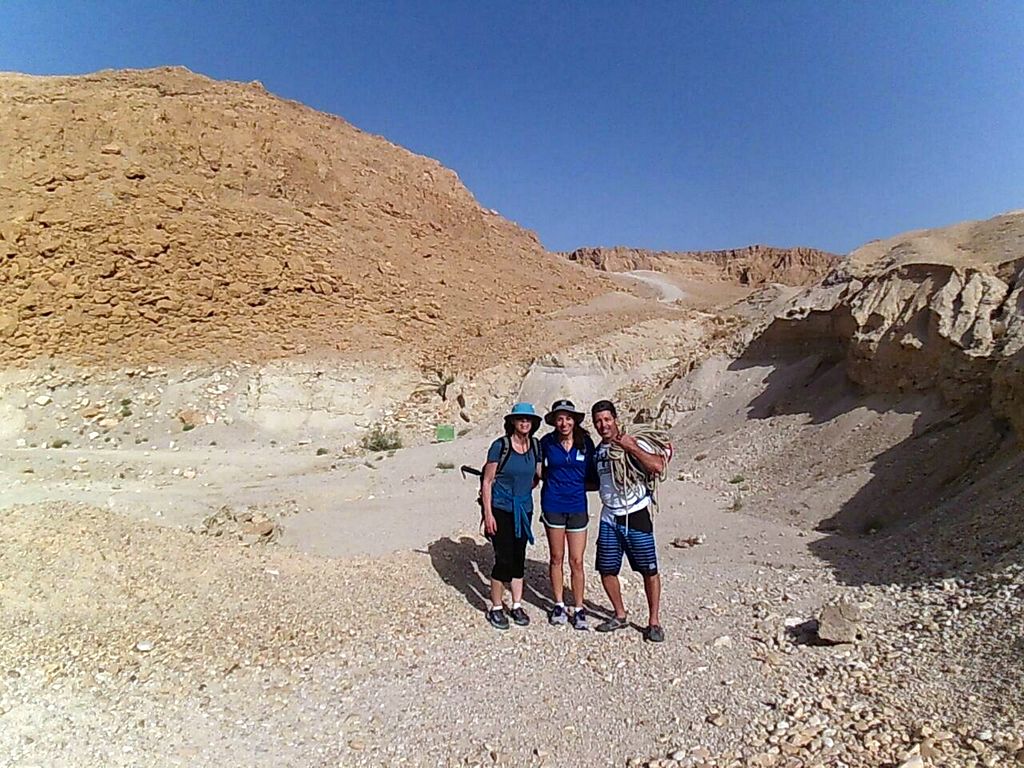 A very healthy hike (you will burn a few calories for sure) but a pleasant winding trail takes you up the mountain. As you ascend, take notice of the incredible views along the way.
Hard to believe, but its not really scary at all. Our guide Avner is a licensed and insured adventure tour guide and he knows exactly what he is doing. He makes no shortcuts when it comes to safety. He actually secures two ropes to steel loops embedded in the mountain rock; one is the rappelling rope or (Hevel Glisha) and the other a safety rope that he has control of. Both of the ropes are secured to a body harness. You start off walking backwards and leaning back into the harness and you can instantly feel that you are secure.
As you descend, you use one hand to release the line slowly and steadily. All the time, you control the rate of descent. Your feet are basically pushing your body away from the wall of the mountain rock. As you enjoy the fresh air and sunshine, it is a feeling of total relaxation and peace yet exhilaration as well.
Top Tips and Recommendations
Set your GPS or Waze to Nahal Rahaf (נחל רחף)
Leave early and start early (especially in the hotter summer months (May-October)
Sun Protection – hat, sunglasses, sunscreen
Light loose comfortable clothing (Jeans not recommended)
Plenty of water- 3 Liters or 1 gallon per person
Hiking Shoes – Comfortable shoes with a closed toe (no sandals or flip flops)
Food – I recommend something light with plenty of protein. You will get very hungry but need to keep it simple and light. We took peanut butter sandwiches and fruit.
Lightweight Hiking Backpack or Camelback to carry everything
Our guide Avner carries a specific insurance only available to licensed guides called HaCashra.
Book Your Rappelling Tour with Avner