Hope you enjoyed the quick video above..
That's me with my family enjoying the the amazing atmosphere of the Machne Yehuda market at night. That's right, when the sun goes down, the market comes alive. Traditionally considered a landmark and the best "Shuk" in Jerusalem; a great place to purchase local produce and goods, this is now become an amazing night attraction. Dozens of fantastic places to eat and drink. 
We took this really cool food and drink tour through a company called BiteMojo (booking details to follow). For just 110 Shekels or less than $30, you can taste and drink the best the Market has to offer. 
And I can't wait to tell you more….
Highlights – Machne Yehuda Market At Night
Feel the energy, enjoy the smells, and atmosphere of one of Jerusalem's oldest and most renowned markets at night. 
Sample mouth watering food and spirits from six of the Market's top food and bar establishments
Experience  delicious Israeli culinary delights and the "local" lifestyle
View an amazing array of quality street art only seen after the shopkeepers close their doors after hours. The same doors serve as a canvas for the top Israeli "taggers" or Street artists.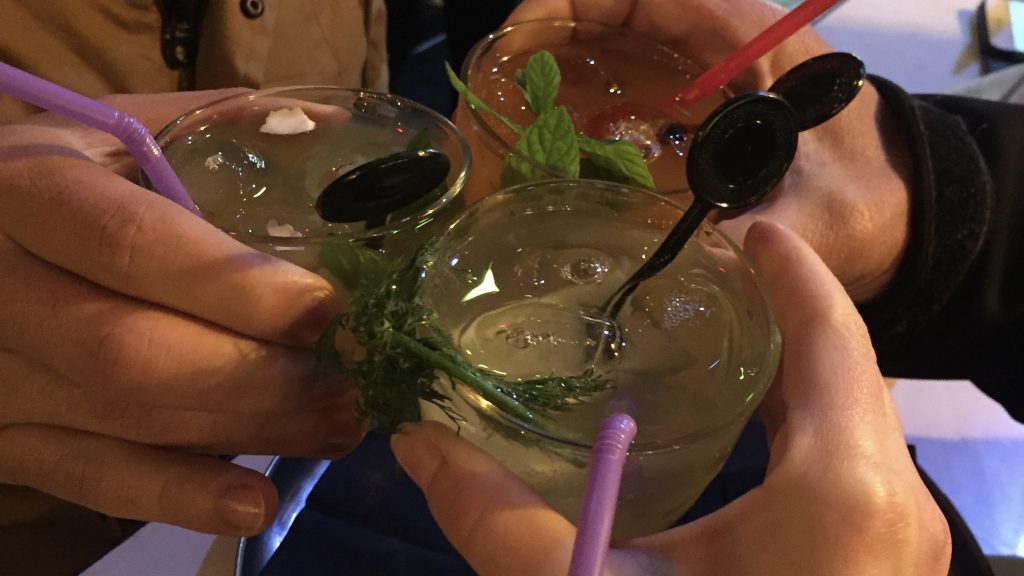 DESCRIPTION
Eat like a local, drink like a local and party like a local! 
Sample the many varied foods, aperitifs and spirits that are common in Israel and local favorites. Along the way you will enjoy hand crafted beer, specialty cocktails and chasers, authentic local "street food" and of course homemade ice cream and cookies to finish it off. 
Along your tour, see many examples of street art, among other surprises!  Come with an empty stomach, there is more food and spirits than you will be able to handle ( I think..). 
You will get from 5 to 6 amazing food and beverage tastings accompanied by  the information about  the places you visit, historical information and points  of interest on your way.
Availability:
Sunday to Thursday: 8:30pm-12:00am
Saturday: 9:00pm-12:00am
Friday: the tour isn't available
Additional Info:
Full Tour:  110 Shekels per person. May be downloaded and purchased through this phone app iOS / Android. or website (details below). Use coupon code

ITS

for your discount.
The tour is restricted for adults over the age of 18
There is no guaranteed substitutions for those with allergies, though some biteStops will accommodate.
Note that you may be asked to wait to receive your bite depending on busy times, and seating may not be available.
You may interrupt the tour and continue on a different day.
You may convert unused bites to bite-credit via the app.
The tour is valid for 6 months from the date of purchase.
Booking Info:
The tour is an entirely self guided BiteMojo digital tour. All you need is a smartphone and data connection. The app is easily downloaded to your phone here iOS / Android.  and allows for direct purchases of individual passes. Use coupon code ITS for your discount
Bite Mojo digital bite tours in Jerusalem or Tel Aviv. You just download the application to your phone or purchase online.
Don't forget to Use coupon code ITS for your discount
More Amazing Food Tours in Israel….
The Machne Yehuda food tour offers amazing tastes from the best stands in the market.
Use coupon code ITS for 5% discount
Where better to experience the unique spices, smells and foods of Israel than in Jerusalems Old City Market.
Use coupon code ITS for 5% discount
Featuring the famous and legendary Carmel Market in Tel Aviv, experience the best local flavors. 
The Jaffa Flea Market is a unique combination of trendy shops and modern art along with antique stores, jewelry, and second-hand clothes stores. 
Use coupon code ITS for 5% discount
Levinsky Market is gourmet lovers paradise with its range of flavors, spices, nuts, dried fruits and fusion cuisines.
Use coupon code ITS for 5% discount
This delicious Vegan Tasting Tour will take you to all the top Vegan restaurants in Tel Aviv
Consider yourself a foodie? – Come join us for a mouthwatering walking street tour of downtown Haifa featuring the top spots