Biking in Israel – Did you know that Israel has become a bicycle lovers paradise?
Perfect for the entire family, you will experience some of Israels most prized "scenic gems". Better yet, you will do it from the seat of a bike while getting some fresh air and exercise. A healthy bonus… 
My personal passion is "biking" and I am happy to share with you my favorite rides.
Please enjoy this "selfie video" taken at the trails near my house and Enjoy the Ride….
Biking in Israel – From the Desert to the Mountains
Israel has experienced a true renaissance in cycling over the past decade and as a result there are literally thousands of kilometers of well defined biking mountain trails, paved paths and roads throughout the country. From Eilat at the southern tip of the Negev to the highest mountains in the Upper Galilee, wherever you go in Israel, you will see bikers.
Regardless of  age and experience, there is something for everyone. In fact, biking in Israel is becoming one of the most popular ways for Israelis and tourists alike to enjoy and explore the country.
Of course if you are only visiting, then you will probably need to rent a bike as well. Not to worry, in most major cities as well as National Parks, bike rental is available and affordable.
Tayelet Tel Aviv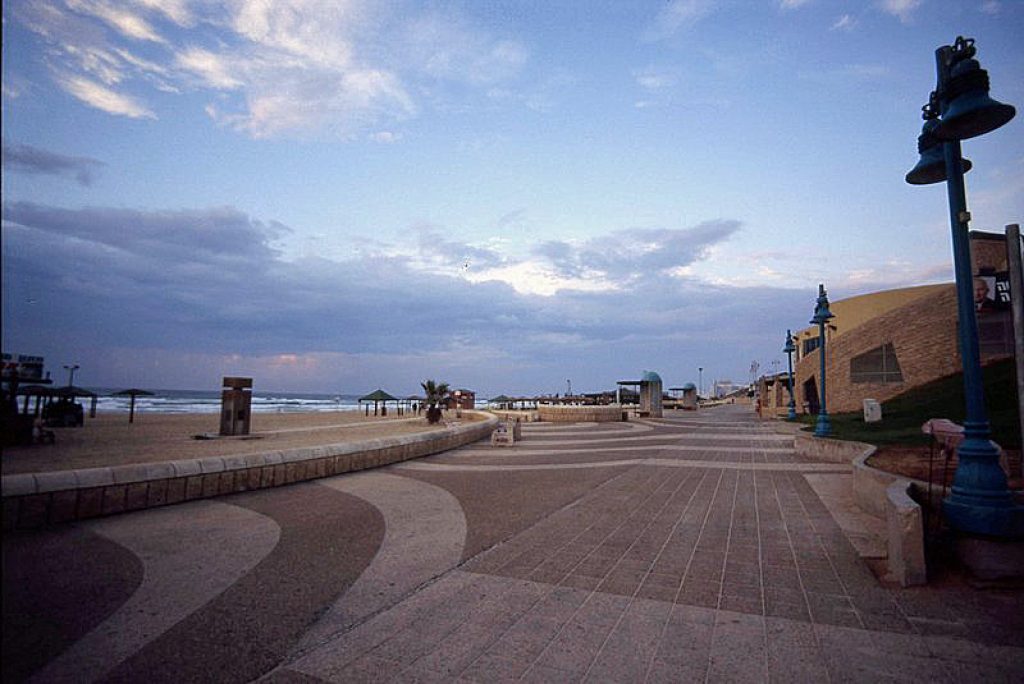 The Tayelet from the Namal in north Tel Aviv to Yafo..
This is a "must do". My wife and I had the pleasure of experiencing this ride together. Please see our Namal to Yafo bike ride for more.
If you are interested in a great way to see the Tel Aviv coastline on a brand new promenade that stretches from the North of Tel Aviv by Dov airport all the way to Jaffa port, then this is the perfect one day trip for you!
A nice leisurely ride (very flat) with fantastic views of the wonderful Tel Aviv beaches and Mediterranean coastline with new hotels, and a multitude of great bars and restaurants along the way.
The scenery is amazing!.
National Parks and Nature Reserves
Although Israel is a relatively small place, there is great value placed on the preservation of the country's native plants and wildlife as well as to promote and sustain it's archaeology treasures. For this reason, KKL or Keren Kayemeth LeYisrael and The Jewish National Fund currently offer over 33 official biking and literally hundreds of hiking trails across Israel. See a complete listing of KKL cycling paths in Israel. They all make great one day trips
A few of my favorite rides:
Hula Valley Nature Reserve – If spectacular natural views, endless biking and hiking paths, and by far the most amazing bird spotting you may ever witnessed sound interesting to you, then this one is for you.
Under construction and coming soon – The Israel National Bike Trail set to run from Metula in the north by the Lebanese border to Eilat in the south. The mountain bike trail will cover over 1,200 kilometers, and contain 27 segments. As of June 2013, two sections are currently open for riders.
Mountain Biking in Israel – Coastal Plains
I actually used to be an avid road biker when I lived in the States, but now my passion is mountain biking. The endless trails and spectacular scenery, especially where I live in North Central Israel, are a perfect venue. In fact, Zichron Yaakhov is located just on the southern edge of the Carmel mountains, where there are literally hundreds of trails offering something for the basic beginner to the most advanced rider.
Probably the camaraderie is the best part. I have a group of friends that I usually bike with on a regular basis. It is a great social outlet and something I look forward to every week. Riding on the mountain trails and back roads allows you to see the country from a unique perspective; an undisturbed side of Israel showcasing its awesome natural beauty. Its the part of Israel many people including native Israelis never see.
Road Biking in Israel
Road Biking  is also very popular in Israel, especially in most major cities, not only as a sport, but a means of transportation. Primarily in Tel Aviv where the traffic is heavy almost all the time and parking is virtually non existent. Tel Aviv offers a unique system of totally automated bike rental stations called Tel O Fun. I have used them and they are great. Also you may wish to try a Private Biking Tour.
On the weekends, many of the sport bikers take over the roads in large packs with a trailer car (hazard lights flashing) in the rear. This is largely for safety reasons because there are very few places with designated bike lanes and the weekend offers the opportunity to use the roadways with the minimum traffic.
During many holidays (Chaggim) bike events are taking place in the main roads of Tel Aviv and other major cities where the bikers take over the streets.
Biking in Israel Top Tips and Recommendations
My top tips and recommendations:
Don't ride through waste deep water – Just Kidding! It is just a little Photo Shop mirage.
Water – Take a water bottle with you with containing at least 1-2 liters per person or better yet a Camel Back.
Bike Helmet and Sun Screen – There is very little shade along the way and you will feel the intense heat of the Mediterranean sun. Plus there is a helmet law in Israel.
Sunglasses: Also highly recommended.
Food – I usually bring something small that offers plenty of protein. A peanut butter sandwich and piece of fruit.
Bike path markers – There are numerous multicolored markers directing you to stay on the bike path, but they can be easily missed so pay attention. I will often use a phone app like Map My Ride to provide me with a locator.
A spare puncture resistant inter tube and tire changing tools. Punctures are much more common in mountain biking.
Bathrooms: None
Pictures: Lots of great photo opportunities so have your camera or phone ready in a water proof or dust proof case. A Ziploc sandwich bag is fine.
Cell Phone – This is an absolute. Do not ride without a fully charged cell phone.
More about Things To Do In Israel from Israel Travel Secrets.
Enjoy your bike ride
Bruce